Vietnamese refugee Rodney Thanh is helping Australia's fashion industry become sustainable
[ad_1]

The company is working with various partners including Melbourne Textiles and Fashion Enterprise on fabric design using the traceable cotton. "We've worked with Rodney for 20 years. We trust him, we know he's innovative – and he genuinely loves fashion," says Justin Levis, executive director of Cue Clothing.
Thanh started as a product developer in the early 1990s, working with a company that supplied garments to mass retailers such as Kmart and Target. He spied an opportunity to connect manufacturers with mid- to high-end labels, so he struck out on his own – with a little help from one major Australian label that decided not to give him a job as head of knitwear.
"They said I was too creative for that position and I wouldn't fit in to the corporate environment," he says. Looking around the factory that employs 160 people, and with plans for a new, bigger operation taking shape, Thanh is thankful for the insight.
When most of Australia's textile manufacturing started moving offshore, Thanh decided he would go as well and bought a one-way ticket to Shanghai. For six or so years he worked with contractors there as he mulled the pros and cons of setting up his own factory.
He considered buying into an existing operation but none matched his ambition for a facility that could work with most fabrics. This includes knitted materials, which are used to make sportswear, swimwear, socks, jumpers and so on, and woven fabrics such as denim.
"People kept telling me I could do either knitwear or woven but not both. Also, most factories only made shirts, or only made trousers. I wanted one that could make multiple things. And I wanted to do something in Vietnam."
Thanh is passionate about raising the quality of manufacturing in Vietnam. He wants to help update the tailoring legacy left by French colonisation, so the country can move beyond its current reputation for reproducing favoured garments for tourists on holidays and churning out fast-fashion in huge factories.
Thanh has not forgotten his early years. He remembers being lowered through a trapdoor into a small craft that ferried the family to a boat waiting at the mouth of the Mekong. When he first returned as an adult, it "was very emotional".
One of his scouting trips to Ho Chi Minh City coincided with a holiday there by the Cue fashion chain's Levis family. After working closely with Cue for more than 20 years, Thanh still addresses patriarch Rod Levis as Mr Levis.
"Mr Levis asked why I wanted to come to Vietnam and I said I wanted to elevate the level of manufacturing here. Vietnam is seen as cheap labour for cheap brands; fast fashion, high volume. I believe the skill set of the Vietnamese could produce middle- to high-end fashion. I wanted to be the person who set up a new type of factory."
That half-hour meeting ended up running for several hours and when it ended, Mr Levis rang Cue's Sydney office and said: "I want you to back Rodney."
Thanh says he still sources some product from Shanghai and has no plans to close that office. Howeve
r, it's Vietnam where his business will expand, thanks to rising demand from Australian fashion labels.
"When I was growing up in Australia, there was a local industry. If you wanted to make garments, you did so in [the Melbourne suburbs of] Thomastown or Sunshine. Then manufacturing moved offshore, and it became all about price."
The pandemic has changed that thinking after stress-testing every supply relationship. Thanh says the conversations he is having with many buyers in Australia have changed. Fashion labels want long-term partners and a "China plus one" supply chain.
"Our base in Vietnam allows them to diversify their supply chain. If they have to pay a bit more for that, they will," he says.
Such is demand that Thanh plans to open a new factory largely devoted to yarns and fabrics using Australian cotton and Australian merino wool.
"The cotton will come here to Vietnam. We have partners who will spin it into yarn and then make fabric from that yarn. We will then manufacture the garments and ship those back to Australia."
Cue's first product made with traceable cotton was made in Australia. Thanh's model will significantly shorten a global supply chain that can feature as many 20 stops including auctioneers and other middlemen.
Cotton from Australian farmers, for example, might go to China, Vietnam or Turkey to be spun into yarn before being made into fabric in another location then turned into a garment in a third. Tracking the fibre on its around-the-world trip has been virtually impossible.
Veronica Maine, RM Williams and MJ Bale are among those that have joined Cue on the ride as Fashion Enterprise expands into yarn and fabric production.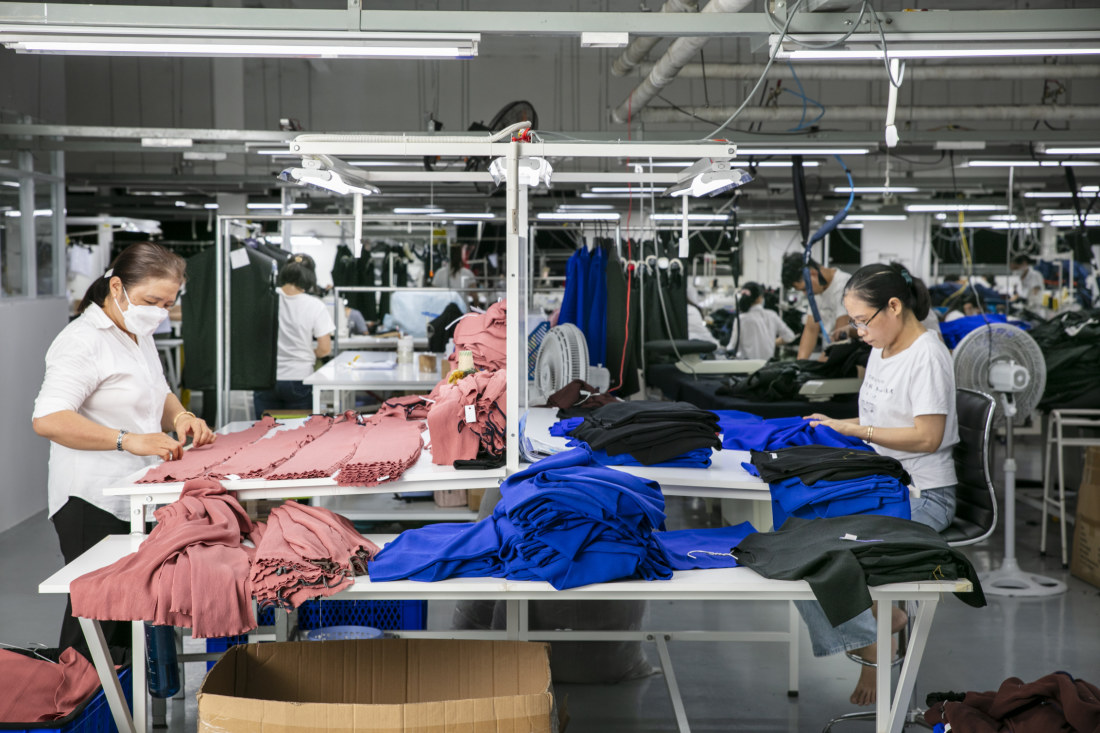 Most of Cue's garments are made in Australia, and it has no plans to change that. Offshoring will continue to pay a role. Locations may change as the company follows some partners into new territories.
It has cut back on what it sources from China but, like Thanh, will still do some business there. "We have expanded our production in Vietnam and we're exploring some other options. It costs much less to produce offshore, but we are very cautious," Levis says.
Thanh, of course, is a known quantity. "It's partly because I'm Australian, I can bridge the gap," he says.
"I was born in Vietnam, but I wasn't raised there. It was Australia that gave me opportunities. When people ask me my nationality, I say Australian-Vietnamese. It's extremely important to me to support Australian fashion and Australian industry. Fashion Enterprise needs to make money. But I need to do that in way that connects to my beliefs."
As the sole owner of the business, which carries no debt, Thanh has not had to compromise.
On the factory floor he points out to a Juki industrial sewing machine. When he was a boy, his family had three of these. After a move from Tasmania to Melbourne, his parents were pieceworkers, working as much as they could from home.
Thanh now has 140 of these machines. He pays his workers a weekly wage, not a piece rate. When new employees start, he spends a lot of time telling them to slow down.
Thanh says his workers are highly skilled but have previously not been given the opportunity to show those skills.
"Vietnam has a grand tailoring tradition, so I was very surprised when I first came here and couldn't find any factory producing high-end product.
"My workers say I shouldn't show too many people because then they will copy us. But I want people to copy us! Competition is great."
[ad_2]

Source link